Keep your children and family safe
Save your parking location
Keep an eye on your vehicles and drivers
How it works
To start using this family app to track location you should:

Register to the app using Email and password or use your Facebook or Google account.
You have to accept permissions that the App asks, so that both you and the users of the same group can locate and see each other on the map
Disable the App Optimization mode on Android for the uTrackMe app. This needs to be done to allow uTrackMe App to function correctly and update location regularly.
Main screen
Once the permissions are allowed, and launching this family app, this screen is displayed, to start using this free mobile tracker app to track location you should create or join a group to be able to track location of other users.
To create a new group tap tracking as shown in the picture, then enter the name and description of the group, then tap create button, a code is generated, note this code and share it with users you want to track location and monitor as shown in the picture below.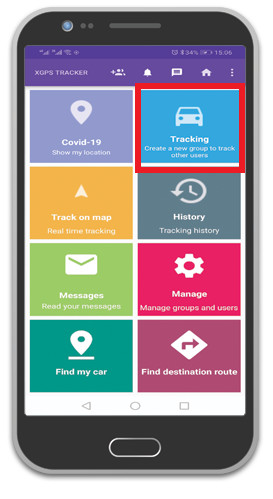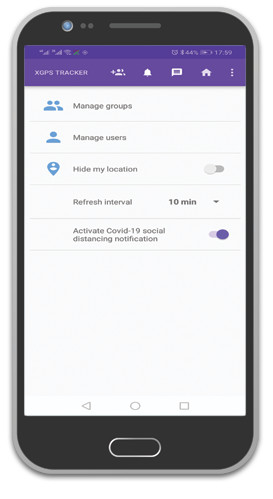 Manage groups and settings
When you tap Manage, this screen is displayed, here you can retrieve the code of a group or change its information.
to remove a member from your groups tap on Manage users, then choose the group, a list of users appears, select the desired users then tap on delete button.
To restrict a user in a specific area such as school, select Manage users, then the desired user, then enter the necessary information.